Liz Truss is clinging onto her job as UK Prime Minister tonight after being forced to scrap almost her entire package of tax cuts.
Liz Truss is clinging onto her job as UK Prime Minister tonight after being forced to scrap almost her entire package of tax cuts.
The embattled PM parachuted in a new Chancellor, Jeremy Hunt, on Friday, and he issued a statement on Monday explaining that all of her proposed measures – which prompted financial carnage in the UK – would be ditched immediately.
Ms Truss' £65 billion ($117 billion AUD) raft of unfunded tax cuts caused the Pound to plunge in value and saw mortgage rates triple – leading to widespread anger among the public and her own party.
She was forced to backtrack entirely today, with Mr Hunt annoucing that he will "reverse almost all the tax measures" Ms Truss and his predecessor Kwasi Kwarteng announced just weeks ago.
Mr Hunt's changes include scrapping a planned reduction in tax for millions of workers, increasing corporation tax on businesses and reining in a policy that would have seen billions of pounds spent helping struggling families pay their burgeoning energy bills.
The sudden changes will save the UK £32 billion ($58 billion AUD) and Ms Truss and Mr Hunt hope the move will help regain market confidence.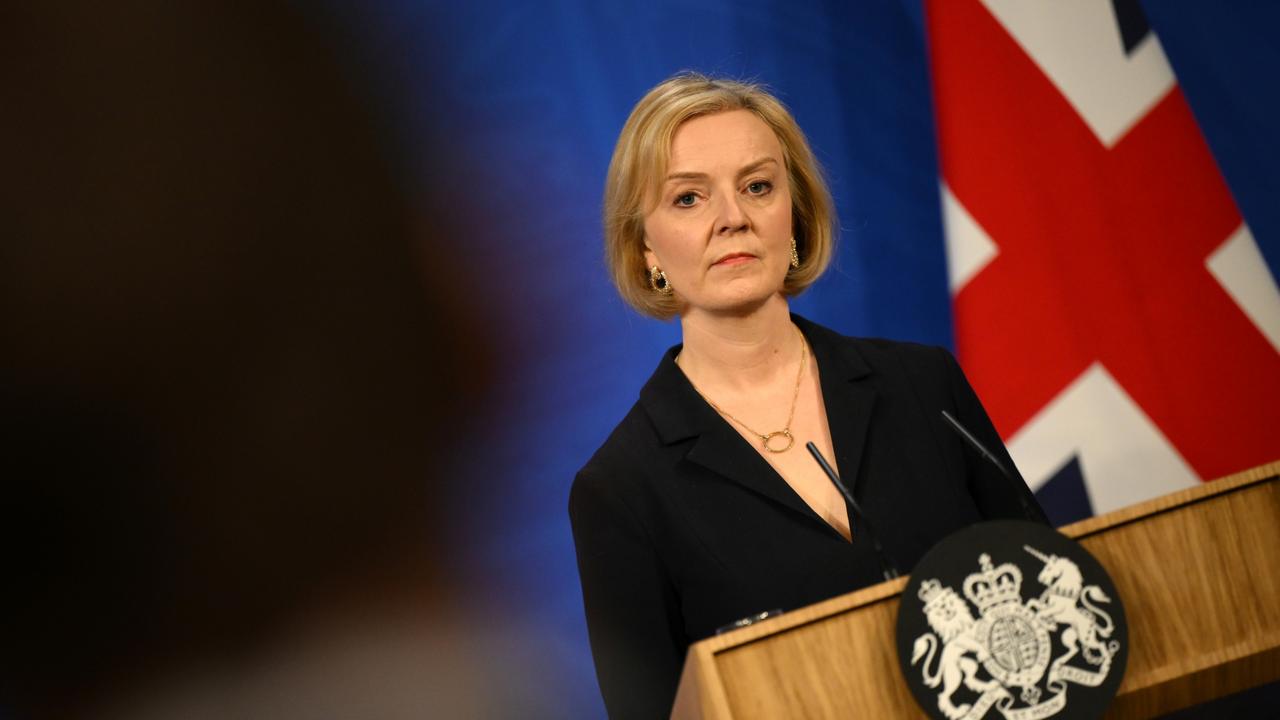 UK Prime Minister Liz Truss.
The Chancellor also warned that there would be more bad news for taxpayers in the days and weeks ahead.
"There will be more difficult decisions, I'm afraid, on both tax and spending as we deliver our commitment to get debt falling as a share of the economy over the medium term," he said.
"All departments will need to redouble their efforts to find savings and some areas of spending will need to be cut.
"Our priority in making the difficult decisions that lie ahead will always be the most vulnerable and I remain extremely confident about the UK's long-term economic prospects as we deliver our mission to go for growth."
Mr Hunt's statement wasn't due for another two weeks but was suddenly announced at 6am.
The new Chancellor's agenda has raised questions over who is really in charge of the UK – Ms Truss or Mr Hunt.
The humiliating move for Ms Truss comes as her own MPs call for her to quit.
Chancellor of the Exchequer, Jeremy Hunt
Three of her own politicians have so far demanded she resign, with plotters already lining up candidates to seize the top job in what's being branded a "coronation".
The Prime Minister will address a core group of her own Conservative MPs on Monday (Tuesday morning AEDT) in a desperate attempt to win their support, but many believe the writing is already on the wall for her.
"I would be very, very surprised if there are people dying in a ditch to keep Liz Truss as our Prime Minister," former minister Crispin Blunt said.
While another Conservative MP, Andrew Bridgen, said: "Beleaguered Liz Truss has now run out of friends — she only ever had the support of a third of the elected MPs."
A third MP, Jamie Wallis, added told Ms Truss that she "no longer holds the confidence of the country or the parliamentary party".
Robert Halfon did not explicitly call for Ms Truss to resign, but did have some stinging words for her.
He told Sky News that her and Mr Kwarteng "looked like libertarian jihadists and treated the whole country as kind of laboratory mice in which to carry out kind of ultra-ultra-free market experiments and this is not where the country is".
Ms Truss' job is already on the line
The Conservatives are now nearly 30 points behind the opposition Labour party in the polls and members of the governing party fear they could be wiped out at the next election.
Under current rules, Ms Truss cannot face a leadership contest for a year.
This has led some as many as 100 Conservative MPs to call for the party's rules to be rewritten to get rid of Ms Truss and install someone else as PM.
There are growing rumours that Rishi Sunak – who was Chancellor under Boris Johnson – and Penny Mordaunt – who ran to be PM but was narrowly beaten by Mr Sunak and Ms Truss – are sounding out MPs to see if they have enough support to mount a challenge.
Mr Sunak has remained quiet so far, understandable given the perception that he knifed Mr Johnson in the back,leading to the former PM's resignation earlier this year.
Ms Mordaunt, however, offered her support to Ms Truss in an article for the Daily Telegraph.
"Our country needs stability not a soap opera," she said.
"The national mission though is clear, as the prime minister said. That is what we should all focus on now. It needs pragmatism and teamwork. It needs us to work with the prime minister and her new chancellor. It needs all of us."
Defence Secretary Ben Wallace has also been touted as someone who could steer the ship through troubled waters, but he chose not to run in the previous leadership contest.